Multiple regions of the premotor cortex in humans play differential roles in achieving goal-oriented behavior
<Title of the paper>

The dorsal premotor cortex encodes the step-by-step planning processes for goal-directed motor behavior in humans

<Journal>

NeuroImage
DOI: https://doi.org/10.1016/j.neuroimage.2022.119221
URL: https://www.sciencedirect.com/science/article/pii/S10538119220034579
Outline of Research
In daily life, we select and perform an action to achieve a behavioral goal. For example, to achieve the goal of "opening a door", it is necessary to perform actions such as "move it to the right," "move it to the left," or "turn the doorknob" depending on the type of door and the situation. Clinical studies and animal experiments have suggested that the higher motor cortex of the frontal lobe is involved in the behavior of selecting actions based on a goal. The process of this type of planning process involves multiple steps, such as deciding on a goal, selecting an action based on the goal, and preparing for the action; however, it has not been clarified how the higher motor cortex is involved in each of these steps.
Here, we created a new behavioral task to investigate the step-by-step planning processes for the goal-directed behavior in humans. Using an ultra-high field 7-tesla functional magnetic resonance imaging (MRI) scanner, we found activation in different portions of the premotor cortex during each processing step. In particular, the activated area for deciding a goal was located at the ventrorostral portion of the premotor cortex, that for transforming the goal into an action was at the dorsorostral portion of the premotor cortex, and that for action preparation was at the caudal portion of the premotor cortex. The results suggest that different areas within the premotor cortex are involved in each different step in the action planning process.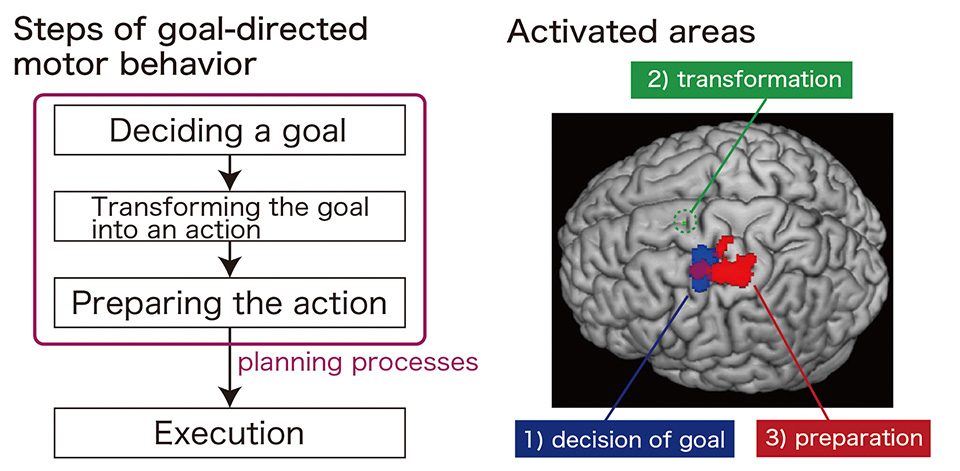 Figure
Different portions of the premotor cortex were activated according to each step of goal-directed motor behavior.
 Major funding for this research 
This work was supported by a JSPS KAKENHI Grant-in-Aid for Scientific Research and the Cooperative Study Program of the National Institute for Physiological Sciences.