HOME > Topics2018 > 27 Dec 2018

4 December 2018
Tomoyuki Miyashita, PhD, (Learning and Memory Project) published a paper on "Long-term memory encoding engram neurons are established by the transcriptional cycling" in Cell Reports."
Long-term memory encoding engram neurons are established by the transcriptional cycling
Summary
Long-term memory (LTM) is formed by repetitive training trials with rest intervals and LTM formation requires transcription factors, including CREB and c-Fos. Miyashita et al. found that MAPK activity is increased during rest intervals to induce transcriptional cycling between c-Fos and CREB in a subset of mushroom body neurons. Significantly, LTM is encoded in these mushroom body neurons, and blocking outputs from these neurons suppress recall of LTM whereas activating these neurons produces memory-associated behaviors.
<Title of the paper>

Long-Term Memory Engram Cells Are Established by c-Fos/CREB Transcriptional Cycling

<Journal>

Cell Reports, Volume 25, Issue 10, 4 December 2018, Pages 2716-2728.e3
https://doi.org/10.1016/j.celrep.2018.11.0225
Details
Long-term memory (LTM) is known to be encoded in specific neural cells, namely, engram neurons. While engram neurons have been identified by increase in expression of c-Fos(1), it has been unclear how these engram neurons are formed during training.
Drosophila can form olfactory aversive LTM by repetitive training sessions with rest intervals between each session, a training paradigm known as spaced training. Similar to mammals, LTM formation requires de novo gene expression mediated by transcription factor, CREB(2). Phosphorylation of CREB by MAPK is critical for CREB-dependent gene expression, and activity of MAPK(3) is increased during rest intervals of spaced training. In this study, Miyashita et al found that the relationship among MAPK, CREB, and c-Fos in LTM formation is more complex than previously proposed. Repeated and prolonged activation of MAPK produces transcriptional cycling between c-fos and CREB. CREB is phosphorylated by MAPK to induce c-fos expression, while c-Fos is also phosphorylated by MAPK to form the transcription factor AP-1, which promotes expression of CREB. The first c-fos induction step is required to form LTM, while the second CREB induction is required to prolong LTM to last at least 7 days in flies. Furthermore, blocking or activating neurons which had formed c-Fos/CREB cycling inhibits memory recall or induces memory-associated behaviors. These results indicate that memory engram neurons in flies are established by cell-autonomous MAPK-dependent c-Fos/CREB cycling and provide useful procedure to improve memory impairment.
1)c-Fos:

One of the immediate early genes encoding transcription factor. Expression of c-fos is mediated by CREB.

2)CREB (cAMP response element binding protein):

A transcription factor mediating gene expressions required for long-term memory formation.

3)MAPK (mitogen activated protein kinase):

A family of protein kinases that mediate various neuronal function. MAPK family includes ERK (extracellular signal-regulated kinase), JNK (jun kinase), and p38.
Reference figure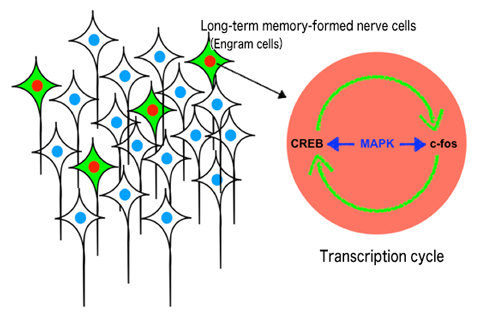 By repetitive learning at intervals, MAPK is activated in the nerve cells to which repetitive information is input, so that a transcription cycle of CREB and c-fos is formed. In the nerve cells in which the transcription cycle is formed, the amount of CREB increases and it becomes an engram cell in which long-term memory is formed.
---